The modern boarding facilities are very roomy and were build inside a solid brick building and fully comply with the latest rules of the German government for the protection of animals, and each kennel is equipped with a special resting mat.
The dogs are loveling cared for and tended by an experienced and competent staff. Our local veterian is available to us for any emergencies around the clock 24 hours a day. We also take great care to insure that the vaccination status of all the dogs on the premises is current.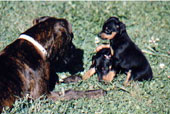 Our four legged guests will be kenneled alone or with one companion. We recommend that you leave your dog with its blancet or bed and its favourite toy.

As part of our service we will provide your dog with any special feeding routine required. Otherwise we will feed our proven, balanced quality dog food.
During the day the dogs have the opportunity to romp freely with their other four legged friends in one of our open play yards. So time flies when the dogs having fun.