Because of the idyllic location of the centre which is housed in an old transformed farm in the Bavarian Isar-valley you and your dog have the opportunity to enjoy beautiful hiking along the Isar-river and swimming an a closed by lake.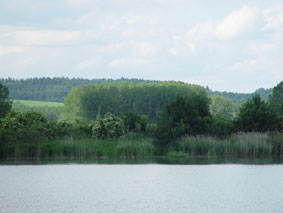 Within a 30 min. drive on the Autobahn you can be in the middle of the Bavarian forest and national park. Munich, Bavaria`s capital and a cultural and arts-centre is only 60 min. away.
For active vacation with your dog in preparation for BH, SchH, ZTP, basic obedience.
If you like, you can cap off your vacation by titling your dog!

The tests are held at my training facility or nearby. So you can train your dog and take a test at the same location. This maximizes your chance for success.
Or if yours is a problem dog we offer the following programs:
Weekend program
(5 hour of 45 min. each)
Friday afternoon till Sunday afternoon
one week course
(10 hours of 45 min. each)
Monday to Friday 2 hours each day
re-socialization of problem dogs
(20 hours of 45 min. each)
2 weeks Monday to Friday two hours each day
Up to 4 persons can comfortably stay in a 50 mē two room vacation house with separate kitchen and bath. It`s own fenced yard and a terrace for summer barbeque.
You have the possibility to keep your dog in the house or to rent a kennel.
There is also room for two trailers, with separate electricity hook up and full bathroom facilities at the main house.